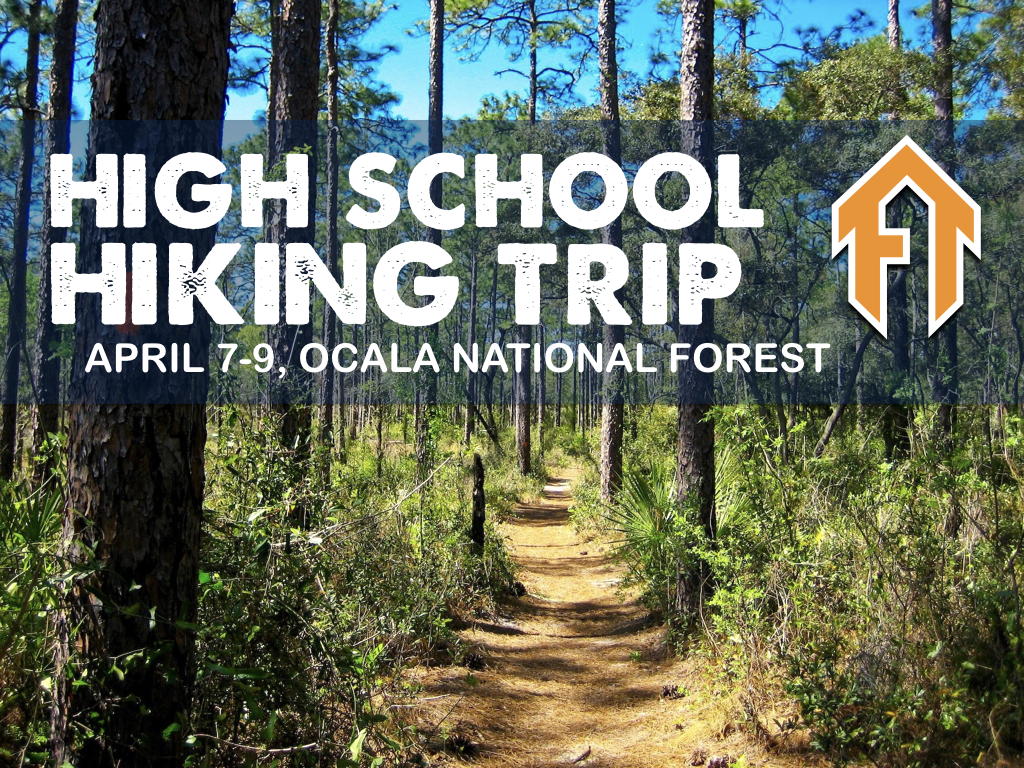 High School Hiking Trip
April 7, 2017 @ 5:00 pm

-

April 9, 2017 @ 4:00 pm
Give careful thought to the paths for your feet and be steadfast in all your ways. Proverbs 4:26
Pastor Phil & Stefanie along with the High School Ministry Leadership Team will be taking the High School Students on a weekend trip in the Ocala National State Forest. This trip will be a 47 hour adventure where the students will encounter the teachings of the Bible as well as experience outdoor survival techniques necessary to backpacking in a rugged environment. No backpacking experience necessary and minimal gear will be required of the students. *SEE PACKING LIST BELOW
Note: We will be traveling with qualified personnel* and will have communication gear with us at all times.
Register your student for this life-changing event right away!
Packing List (*critically important):
Backpack* as large as you have
Sleeping Bag* a good warm one
Solid walking/hiking/gym shoes & couple pairs of socks
Insect Repellant
Sunblock
Hats/Handkerchief
Spork/Fork or Spoon
Lightweight eating bowl, like gladware
Water Bottle
Snacks that won't melt
Optional Items:
First Aid Kit
Hiking Stick/Poles
Compass
Tent/Tarp
Bed Roll/Pillow
*Daniel Friedline Served in the military and was deployed in Iraq. He holds various certifications including Certified Military Survival Medic and Certified Combat/Convoy Medic. He has completed numerous specialized military training scenarios, including open water ocean survival, deep woods survival, and prisoner of war survival. He is a First Aid and Buddy Care Instructor and is a certified as a Firefighter in Tennessee.